POSTAL MAIL SENDING OUTSOURCING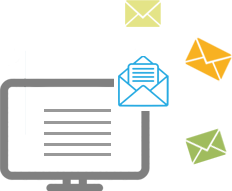 Send your mail in record time and track your shipments in real time.
Despite improvements in the management and dematerialization of business processes, 90% of business documents still pass through the printer and are then sent by post. This process represents massive losses in terms of productivity, reliability and profitability. As you know, using an internal or external mail room is expensive and can affect your business. XIPE Mail Services allow you to send all your management documents, worldwide, directly from your office application or ERP system with delivery to the postal services in less than 24 hours. As a sender, the traditional letter becomes completely electronic for you.
PRINCIPLE
Reception, controls, enrichment for traceability and monitoring of IT flows
Black or color edition on white support
Dynamic value-added shaping
Management of annexes in the flow or by insertion
Envelope all formats
Optimized postage at the fairest cost
Mail or courier delivery
BENEFITS OF THE SOLUTION
Refocusing on your core business : no dedicated staff, no investment in machinery.
Enhanced competitiveness with improved productivity for an optimized budget.
Access to the most advanced technologies such as digital personalization and dynamic shaping, which allow different mail items to be grouped together in the same fold.
Outsourcing of your invoices, account statements, due notice, interim contracts, subscription contracts, subscription contracts, pay slips, medical analysis reports, convening of general meetings, account of services, etc.
ADVANTAGES
XIPE
Recommendations truly adapted to your needs and constraints without any bias
Provision of a dedicated team from the study phase to the start of production
Maximum reliability of production thanks to an industrial organization, and systematic controls at each stage
Security and continuity guaranteed thanks to two mirrored sites
Accurate vision of production progress accessible in real time
Enhancement of documents thanks to dynamic shaping: pre-cutting or online laminating for example
Significant reduction in the postage budget thanks to the optimization of the contents of the envelopes and the massification of the items
RECOMMENDED MAIL
The registered letters are intended for sensitive folds and / or requiring follow-up which will make it possible to prove that the recipient has received his fold.
ADVANTAGES WITH XIPE
Packaged, centralized and secure solution
Integration possible in XIPE | ELECTRONIC SAFE
PACKING
Packing makes it possible to optimize the routing of folds grouped in one or more places.
ADVANTAGES WITH XIPE
Optimization of the distribution circuit
Reduced delivery costs
Monitoring of production progress on XIPE platform
UNDISTRIBUTED MAILINGS
The treatment of Undelivered Mail (UM) consists in making available the information of non-delivery of a mail to its recipient.
ADVANTAGES WITH XIPE
Better customer relationship management: faster update, better targeted shipments
Possible optimization of the deadlines for providing information via dematerialized restitution


LEARN MORE : API REST